**THE NEWEST NEWS**
CONGRATULATIONS, VICKY BARTLOW on your fabulous 2004 NAN TOP TEN win!! Vicky's awesome Smokin' Hotrod resin won big using a High Desert Saddlery Western Pleasure Elite Series saddle set! Keep on smokin', Vicky!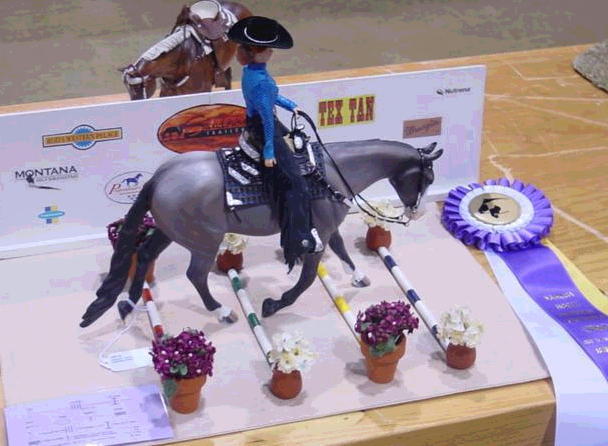 CONGRATULATIONS TO AMY SHOWALTER ON HER PURCHASE OF THIS AWESOME SET!! This stunning set is the newest addition to the Western Pleasure Elite Series from High Desert Saddlery! Done in a delicate leaf and tendril design and adorned with 16 hand-engraved faux silver plates, it is sure to sweep Open Live competition. Set comes complete with saddle, sterling and green glass beaded bridle with sterling bit, matching breastcollar, and matching saddle blanket. Best of luck to Amy and many happy wins!!
Supreme Western Pleasure Set !!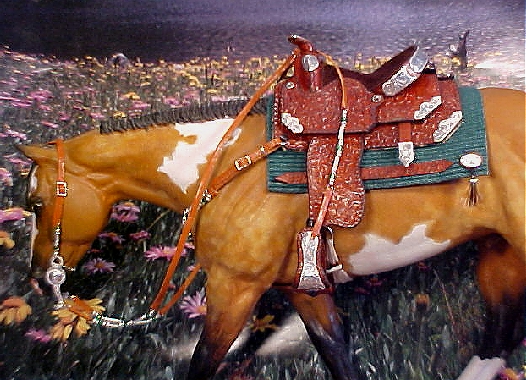 The Silver Aspen Supreme swept the Leathercraft Division at our County Fair this weekend, winning GRAND CHAMPION!! The set beat out a full size real horse saddle and many other leathercraft entries. Ya-hoooooo!!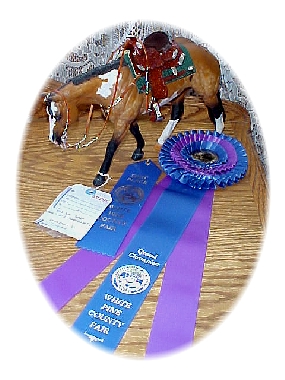 ....And All Too Quickly, Fall Fades To Winter Once Again....
If, 9 years ago, someone would have told me that I would be living out here in the most remote part of Nevada, I would have thought them crazy. It has taken the better part of those 9 years to become accustomed to the climate of the high desert; but I am nontheless amazed at the beauty of each season! Summers are warm and full of life....and although short; our favorite time of the year. Fall brings the most incredible colors to the Quakies; and very often early snowstorms. Most winters last for up to 8 months; often beginning to snow in September and lasting until May. The temps can drop to -30 below and we are often snowed in for days at a time. It is during these long and brutal months that I create custom saddles for this model horse-crazy hobby. However, patience does pay off and spring makes its glorious appearance! We are rewarded with some of the most beautiful sights nature has to offer...wildflowers, deer, elk, high mountain lakes and streams.....and the quiet hush of solitude and contentment. Just as soon as it is warm enough to tolerate, we are horseback...very often bundled up so well that we can barely wiggle. Rick, Bub, and I spend every possible day horseback; exploring endless new trails and discovering fabulous places to ride and take pictures. We have explored Water Canyon, Mosier Canyon, Upper Berry Creek Canyon, Cleve Creek, Cave Lake, White River Wilderness, and so much more. Riding up country, we do see some of God's greatest gifts. We figure that any day horseback is a good day! Not only do we explore the high country, but we also compete in local gymkhanas, horse shows, parades, and cowboy mounted shooting events. In 2005, we carried the US Mail in the annual National Pony Express Re-Ride, covering 146 miles of brutal desert country horseback. My folks traveled down here from Oregon with their horses in August, 2003 to visit (really, they wanted to see their grandson!) They stayed for 2 weeks, so we kept they and their horses busy the entire time! We showed them all the awesome places we ride and even camped out up in Berry Creek Canyon. They were so taken with our beautiful country that they have moved here! They do come over often with their horses and we continue to show off our favorite riding places. They spent their first Christmas with their grandson this year and we had a wonderful visit! Bub plans on spending more time with Nena and Papa during the summers...showing them even more of our pristine country; horseback, of course.
OUR SON, THE CHAMPION!!
Bub competed in his first MX Desert Race and Arena MX races in the summer of 2003! He was one of only 12 that finished the desert race, placing 8th in his division; and then placed 2nd and 3rd in his arena races! He also qualified to race in the Nevada State Championship BMX race in Las Vegas, Nevada in October! We are proud to brag that he ended up 2nd in the entire state for 2003!! Bub also competed horseback in local horse shows; beating out 9 adults in Walk-Trot Western Pleasure and placing 2nd in Country Pleasure! He also won ribbons in Halter at the county fair and at another open show! He and Boog are quite the champions in our heart. Way to go, Bubba!!
THE REAL HORSE UPDATES!
On January 14, 2006, we welcomed BJ into our family. BJ is a 3 year old Bay Tobiano Paint gelding and is the spittin' image of Boog. BJ is Bub's horse and well-suited for a youngster, as he is so sweet and quiet. Bub has plans to train him for train robbing and cowboy mounted shooting; as well as trail riding in the mountains. Clancy is now a seasoned train robbing horse and never flinches when Rick shoots from his back. Rick rides him right up to the steam engine without a problem. He continues to parade quietly carrying the American flag; and as a pack horse, carried a lighted Christmas tree and presents in our nighttime Christmas parade this year. Boog, who is 26 this year, rounded out his 2003 gymkhana season winning Reserve Champion for the year against some very tough competition of 4 and 5 years olds! He won High-Point Champ in June, 2004 here in Ely and Reserve High Point CHamp in Eureka in 2004. Boog and I were undefeated in our division in cowboy mounted shooting in 2005; quite a feat for an old man! Although he has now been officially retired from competition due to stiffness in his front end, Boog continues to do what he does best; show off in parades and train robberies! He remains the Patriarch of the ranch and oversees all the goings-on and educates the new horses as to the barn rules as soon as they get here. We welcomed Baldy into our family in May, 2003. Baldy is an 18 year old former rope/barrel horse who has been to the NFR, NHSRA Finals, and USTRC Finals in his prime, but then retired a few years ago. Sadly, we found out later that Baldy is in the advanced stages of Navicular and was in a great amount of pain. Baldy was permanently retired to the Sunnyside Youth Ranch in October, 2005 where he will teach young at-risk children all about horsemanship. In January of 2004, Roscoe joined our family. Ross is a 13 year old Paint gelding full of personality and tricks; so he fits right in! Roscoe stands right at 16hh and is just a big house ape. We started him on train robberies this past 2 summers and he's coming along great! At 14, Roscoe is now parading like a gentleman and quite popular with the crowd. We have begun training for cowboy mounted shooting, now. I got a trick training book for Christmas, so watch out, Ross! Watch for new pics to be added to the God's Country and Family Photo Album pages!
BACK TO WORK.........
Sooooo...now that winter has once again made its appearance, I am again back in full swing with my saddlemaking. (OK, I might sneak some riding in on good days!) I am hard at work finishing up the CM orders I have and will be shipping those out soon. If you currently have a CM saddle ordered from me, rest assured that I will get them out to you as promised. Although my tack books are currently closed, I will be happy to place your name on my list and contact you as I have CM slots open up. It's never too early to think about Breyerfest and NAN! Get your name in early, as my books fill up in a matter of days when open. You are more than welcome to email with any questions.
Congratulations to all who had such wonderful success in the live shows this past year! I look forward to creating more Top Ten sets for you in the fall! Enjoy Breyerfest, NAN, and JAM and kick some butt in the show pen! I would love to hear all about your wins using High Desert Saddlery saddle sets.
SEND THOSE SHOW RESULTS IN!!
Please send your show results (and pics if possible) using High Desert Saddlery tack to me at: mijonme@yahoo.com. I will post them right here on the HDS website!
JOIN MY YAHOO GROUP!!
As always, this site is under continuous construction! Be sure to check back for updates and announcements. I have started a Yahoo Group exclusively for High Desert Saddlery members. Click on the Yahoo Groups icon on the right side of this page to join!
I hope everybody had a wonderful and safe year and I look forward to hearing from you!
God Bless,
~Dawn~
**CONGRATULATIONS TO ANDREA ABERBOM ON YOUR NAN 2002 TOP-TEN WIN WITH THE "DESERT STAR SUPREME"!! This saddle excelled at both NAN and JAM this August and is sure to keep smokin' the competition! This incredible set was created especially for Andrea and is definately one-of-a-kind. It features full basketstamping bordered by a floral and star design. The hand-engraved "silver" really makes in shine in the show ring. This saddle is the second in the new Western Pleasure Series. Positively the Crown Jewel of High Desert Saddlery!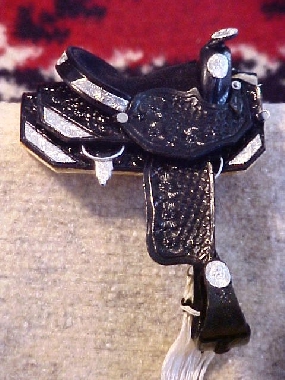 The "RCA Trophy Roper", created for Debra Kay. This saddle features a smaller, ladie's seat and the owner's brand on the skirt corners.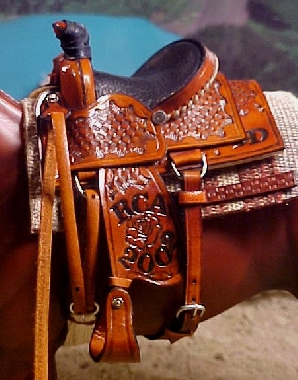 Introducing the "Comstock Rose", the second in the Full-Dress Parade Series. Over 200 hours were dedicated to the creation of this breathtaking set! The set is fully floral stamped and adorned with 47 hand-engraved faux silver plates featuring a rose and vine theme. The bridle and reins are sterling beaded. A truly outstanding set sure to clean house in Open Live Competition! Owned by Jessica Freidman.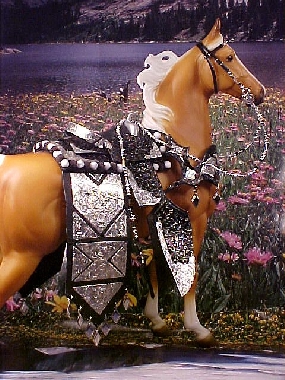 **INTRODUCING THE NEW DESERT ROSE REINER! CONGRATULATIONS TO BARB FEEHRMEYER ON YOUR PURCHASE OF THIS OUTSTANDING SADDLE!! GOOD LUCK IN THE SHOW RING!!**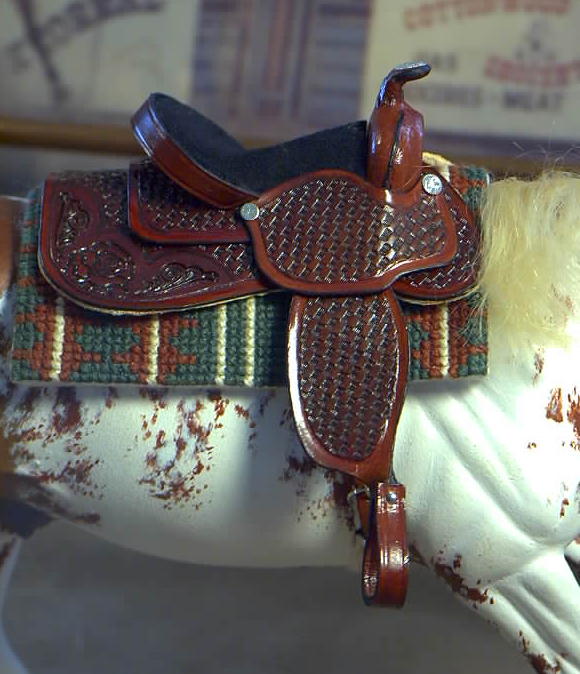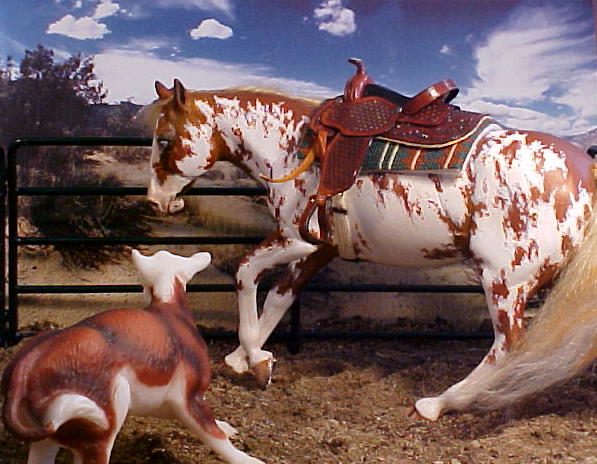 **CONGRATULATIONS TO SHANNON MAYFIELD ON YOUR PURCHASE OF THE "SILVER SAGE DELUXE"!! WELCOME TO THE WORLD OF MODEL HORSE SHOWING! BEST OF LUCK IN THE SHOW RING!**