Being a ranch raised girl, I have lived my life with horses. I have done everything from showing horses, parading, rodeoing, ranching, and working on a dude ranch to competing in Rodeo Queen contests! Naturally, my love of horses spilled over into Breyer collecting. I still have my first two Breyers; the Red Roan Running Mare and the Alabastar Old Timer that I got when I was 2 years old! Now my 10 year-old son has his own collection, my hubby collects the wildlife models.... and between the three of us have over 300 models! In the winter of 2000, I made my first Breyer-scale saddle for ebay and it has just mushroomed from there. I now make and sell custom saddle sets on a regular basis through EBay, MXC, and to private customers. I work fulltime about 8 months out of the year as a miniature saddlesmith. Each saddle set takes between 50 and 200 hours to complete, depending on the type of saddle and detail required. Each saddle is an original design and no two are alike. Each saddle is signed and numbered. I am proud to say that every saddle that has been shown in Open Live Competition has helped to NAN Qualify it's horse! Because of your continued interest in my saddles, I am able to work at home and be here for my young son. I thank you for this privilege and look forward to making the saddle of your dreams! ~Dawn~
My family and I live in the beautiful high desert buckaroo country of Eastern Nevada. We are surrounded by working cattle ranches that still do things the old-fashioned way. We spend our summers high up in the mountains riding, camping, and hunting. It's a very remote area here and very slow-paced. We don't have to lock our doors at night or take the keys out of the truck. It's a peaceful, safe, and simple life here and is truly "God's Country."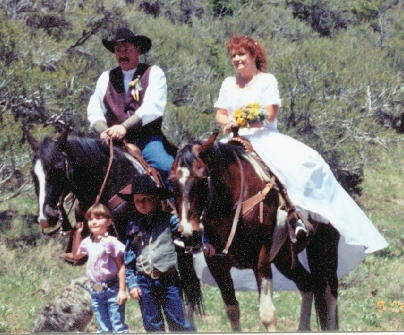 With our granddaughter, Randi Rae; and son, Bubba. They were Attendants of Honor at our wedding.

HOBBIES

Riding, fishing, camping, hunting, 4-wheeling, Breyer collecting, saddlemaking.