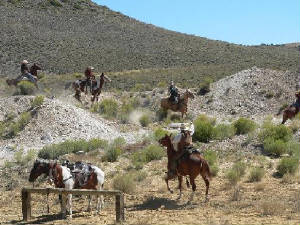 The Ghost Riders are a group of local horsemen and women who "rob" the passengers on the Ghost Train of Old Ely. Dressed in period garb and armed with pistols, rifles, and shotguns loaded with blanks, the Ghost Riders gallop in with guns a-blazing. There are most often stowaway robbers hidden on the train's caboose to help in the robbery. Once the train stops, the foot robbers walk up and down the aisles of the passenger cars with loot bags open while the horseback robbers keep the law at bay. You'll see the likes of Tequila Kate, Snake, Vaquero, Dirty Dan, Railroad Rocky, Cheyenne Kid, Wicked Lil, Cat Ballou, Deadeye, Goshute Sue, Bubba the Kid, Mad Dog, Nevada Kid, Barb Wire, and other wanted outlaws! Watch out for the Sheriff, though.... he often shows up and ruins our fun! An Old West shootout is sure to follow! On occasion, the robbers will take a "hostage" off the train and make them dance in the sagebrush, sing a song, or even toss them up on another robber's horse to be taken away.
A portion of the money collected from the train passengers is donated to the Nevada Northern Railway so that the historic train may keep carrying passengers. The Ghost Riders also do train robberies to benefit selected charities such as the Ronald McDonald House. In the future, the Ghost Riders plan on donating robbery monies to other charities like the March of Dimes, St. Jude's, Miracle Horse Rescue, and many other worthwhile causes.
The Ghost Riders are available for hire for shotgun weddings, anniversaries, parties, and countless other occasions. Of course, the Ghost Riders are also available by special request for groups wishing to charter a private Ghost Train ride. Very often, you can see the Ghost Riders in action without requesting them; you never know when this dirty, no-good bunch will show up and rob the train!